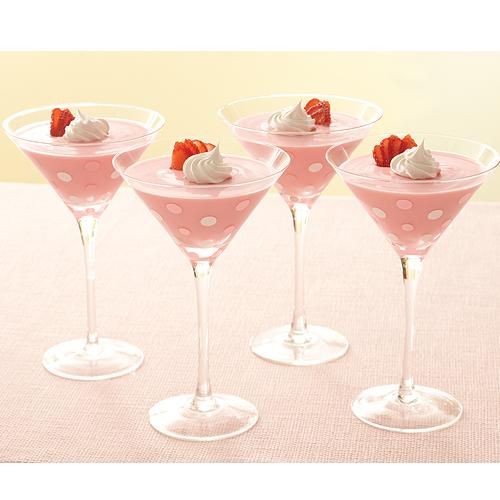 These adorable Pink & White Dots Martini Glasses make great bridal shower gifts and even better just-because gifts for your best girls. If you're frugal and looking for great finds, you can visit Womansday.com for a chance to win a set. Whether you win a set or get a set, go Help Whip Cancer and spread the word to find a cure!

As a proud employee of The Pampered Chef, I am excited to talk about Help Whip Cancer, an annual campaign to benefit early detection programs and research through the American Cancer Society. The Pampered Chef is passionate about this cause (I can say that because I work there and I know it's true). We all know someone who is or has been affected by breast cancer, so Help Whip Cancer is all about honoring women everywhere. This May, tell your favorite ladies how much they mean to you - and how important early detection is for catching breast cancer. According to the American Cancer Society, there are more than 2.5 million breast cancer survivors in America today, and that number will continue to grow if we do our part. Check out American Cancer Society's site for information on early detection breast cancer programs.

Help Whip Cancer has raised more than $7.9 million for the American Cancer Society since 2000. From May 1-31, $1 from each of the pink products sold will go to ACS. Other Help Whip Cancer items include a Pink Tomato Knife, Reusable bags, Pink & White Twixit Clips and Honey Vanilla Sprinkle (great on your morning bagel). If you're like me, and you love to celebrate life with food - or enjoy your pink cocktail with a sweet treat, check out Bakeat350's post for a deliciously simple and sweet pink dessert!

Here's a video of me and some Help Whip Cancer fans on Chicago's NBC5's Dance Friday. (Don't judge my groove.)